OUTHERE MUSIC2022 NEW WEBSITE
A new e-commerce experience
that hits all the right notes
Our expertise
Branding,
E-commerce,
Digital strategy,
Drupal Web development,
SEO strategy,
User experience
Outhere Music came to us with the exciting challenge of exploring the huge opportunities of the digital music market, aiming to reach a broader audience around the world. To achieve this ambitious goal, they needed to seduce a new and curious audience, the "cultural hipster", all the while catering to the loyal and passionate audience of older "connoisseurs".

01A new strategy
Outhere Music, based in Brussels, Belgium, is one of the world's leading independent producers of classical and contemporary music. It operates nine labels, each dedicated to a specific field or repertoire, and each with a strong identity.
New possibilities and challenges brought by the digital era have made the music market more complex than ever. Faced with both offline and online competition, Outhere Music needed to reinvent their strategic positioning in order to make their brand stand out.
Very clear goals were also set for this new strategy, including growth of brand awareness and a 20% increase of Outhere's online sales - the website is a major sales channel for classical fans, who prefer traditional formats like CDs, vinyls and special editions.
02A strong, rich and flexible brand universe
Creating a new visual identity for Outhere Music was a real driver for the new site Outhere-Music.com, and it was our starting point.
We designed a brand universe using the most powerful features of dynamic branding to make Outhere Music stand out in the digital age. The flexible brand architecture works with the complexity of today's communication ecosystems, while maintaining coherence and consistency for a strong brand.
The new branding expresses a new generation of classical music and becomes the gateway to the entire visual universe of the digital platform.
The design system of the new brand supports the user experience of the new website, to touch and convince the audience both visually and emotionally.
The design of Outhere-Music.com is all about rhythm. The design gives the digital interactivity a musical feel, through strong typographic choices, matching the pace of font sizes, white space, imagery. The fluid responsive layout ensures impact and visual appeal on any screen.
The website reflects the richness, diversity, and quality of a unique classical and contemporary music production house.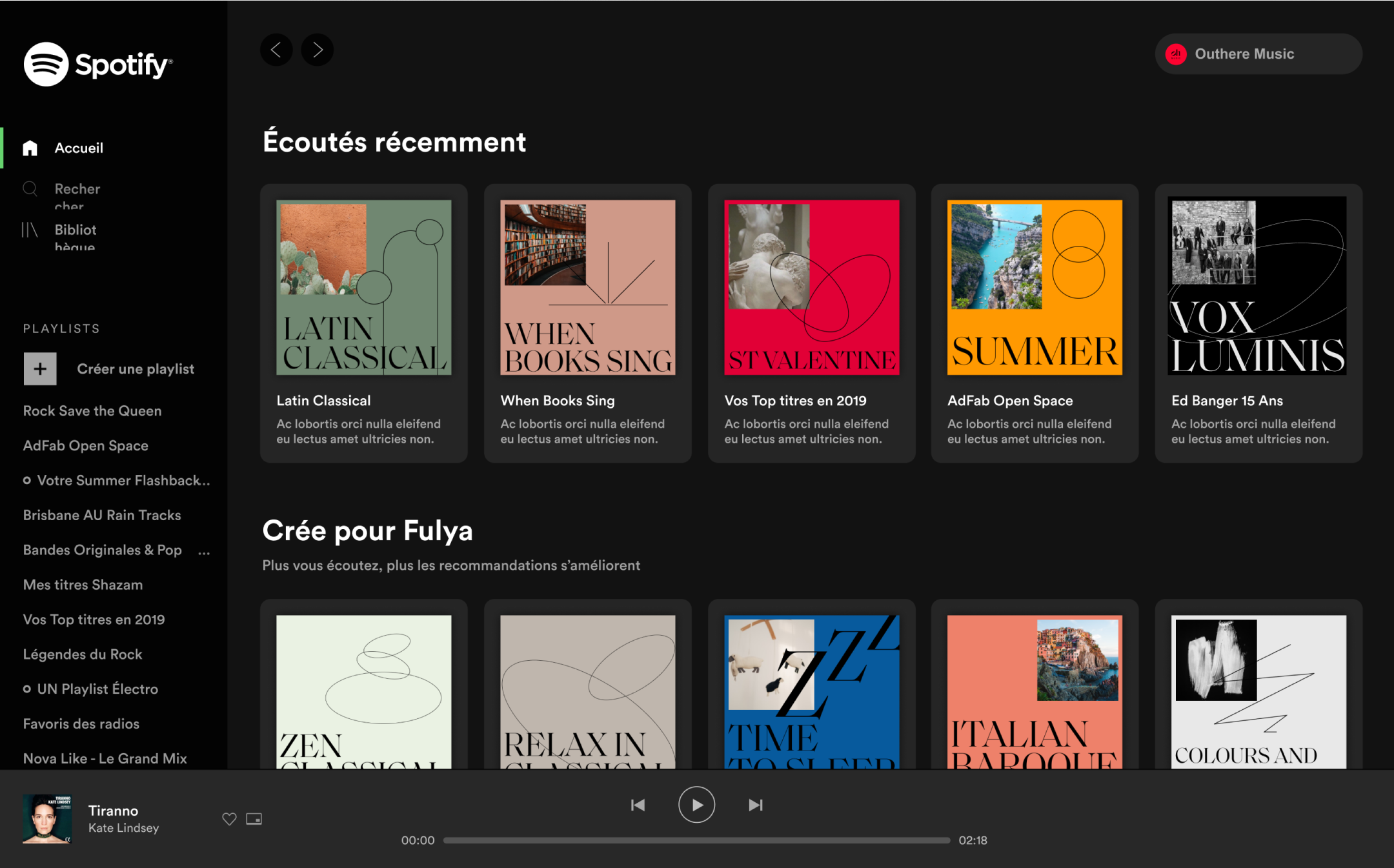 03An immersive e-commerce that invites discovery
The website is first and foremost an e-commerce platform. With sales growth as a very clear goal, we worked together to optimise the user experience within such a vast and varied catalogue, resorting to practical search and filters tools to easily navigate through categories, genres, musical eras and more.
Elaborate promotional tools, smooth buying experience, and sharp SEO tactics in this case go without saying and were a big part of our efforts. But more than an accessible catalogue, the experience had to be immersive and an invitation to discovery, catering to new audiences used to consuming music very differently, though eager to explore unknown artists and sounds. The solution was to integrate streaming options as part of the buying experience, with a player for album samples and a whole section dedicated to curated playlists. All of that coupled with intuitive social media sharing just a click away.
04The aftermath
Partnering with such a passionate team on Outhere Music's side allowed us to move beyond the expected in our creative explorations and technical execution, resulting in something we were all deeply proud of. Now, being proud of your own baby is one thing, but seeing it get recognised elsewhere is another joy completely! Since its release, the new Outhere-Music.com has been granted Site of the Day, Honourable Mention and Developer Award from Awwwards, as well as multiple honours from CSSDA.
The numbers did not disappoint either. Outhere Music saw an increase of 40% in sales since the release of the new website (year-on-year comparison). As for traffic, page views went up by 80%, with session duration up by 25% and the bounce rate reduced by 40%.