Why value-driven content is the secret to a truly meaningful web project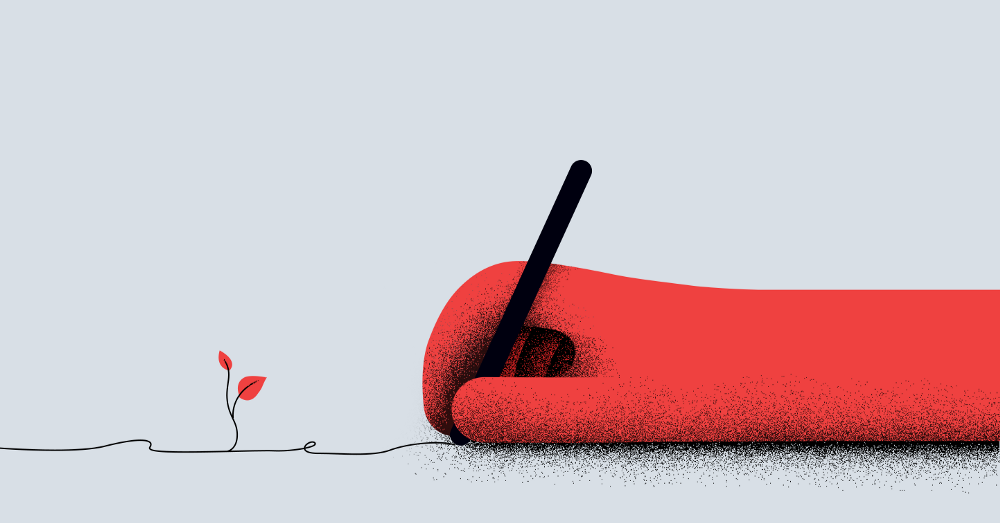 We can't possibly claim to build meaningful digital projects without having a solid approach to doing so. One of the cornerstones to laying a strong foundation for a meaningful project is our content-first approach. Putting content at the very beginning of the process allows us to create a perfectly integrated approach where SEO, strategic goals and strong storytelling are interwoven in such a way that they will uplift each other.
When I start off a relationship with a new client, my first aim is to grasp the value she or he is looking for. This value conversation is an informal dialogue, where I try to reveal your values and understand what you are really aiming at in the coming years. This can be about your dream of becoming a preferred global brand, or maybe about winning a prestigious prize… With that perspective in mind, we will be able to look beyond the numbers, and define how our project can help you perform better.
To succeed in our mission, we always keep your audiences in mind. Just like you and me, people intend to buy from brands they believe in, that align with their values. One of our main challenges is to create a digital project that people want to connect with, a transparent project with values they genuinely care about because it really means something to them.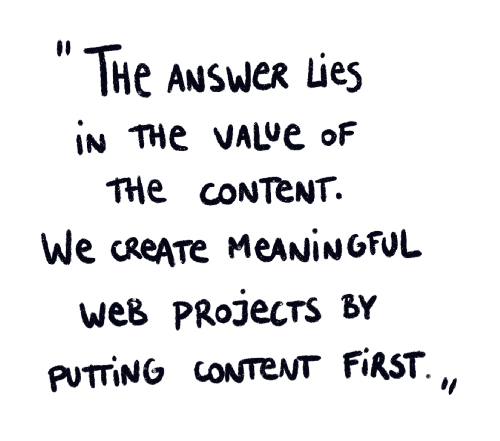 The answer lies in the value of the content. We create meaningful web projects by putting content first. And what's more: our content-first approach will not only impact the performance of the project, it will also smoothen the whole building process — from the very beginning.
It allows us to avoid the well-known pitfall where the content will be the weak link of the project. Providing the quality content that will make the site a real success is so much more than asking each department of the company to provide copy! People may be experts in their business but that does not make them experts in web content. And chasing colleagues for content is a very frustrating occupation… In the end, the project will not only be late, but it will definitely be disappointing and weakened by the poor quality of the content.
In many pitches, we were able to beat our fellow-agencies to the punch thanks to our unique content-first approach. Keep in mind that, for many clients, it is not their first digital project: Very often, they are facing a third or even fourth generation of a website. They have been here before, and the building of those past projects often remains a bad experience. When I debrief about the pitch and hear them out on their priorities and expectations, I can feel how they dread going through those previous traumas again.
When we started this new way of working about 3 years ago, we had essentially a practical solution in mind. Today, it is so satisfying to see how this has evolved into a value-driven solution, where many challenges are solved in the very early content creation phase.
We no longer lose sight of KPIs defined earlier on, SEO is now an integrated part of the overall strategy, and the story we promised to tell still sounds right, no matter what device it is displayed on.
But, most of all, our clients' customers are confronted with content that will attract, inspire, convince and reassure them in the different moments of their relationship with your business. Job done.